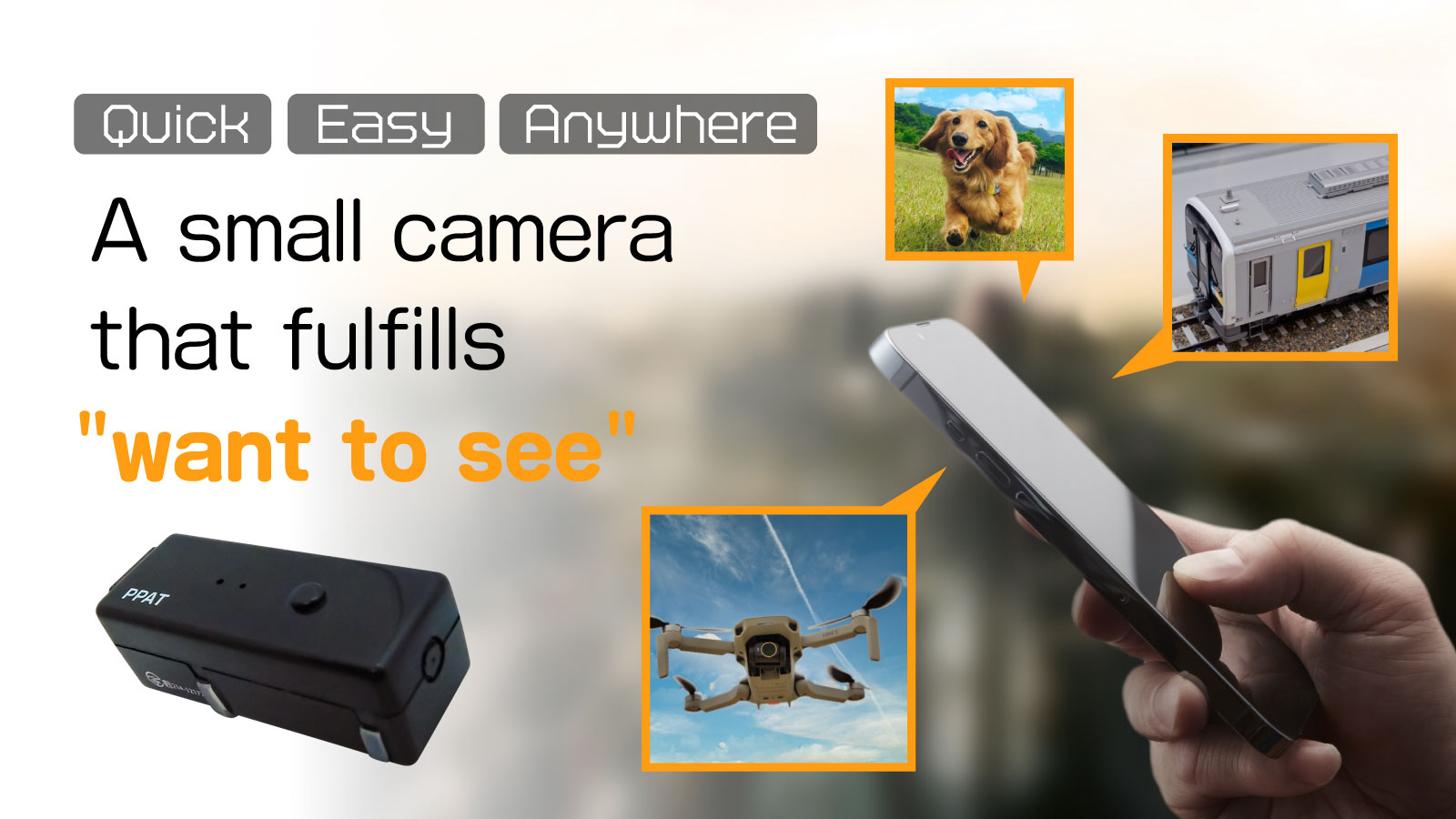 Product Overview
An ultra-compact and lightweight Wi-Fi camera that can be easily attached anywhere
"Watch", "Save", "Share", "Learn", "Play"… what we want to do with our cameras. New possibilities born from cameras. A small and light Wi-Fi camera that packs them all.
# The world's smallest class ultra-compact and lightweight camera.
# A handy camera that can be installed anywhere.
# Easy operation with a Wi-Fi connected cellphone.
Product details
"I want to see more!!"
There must be a lot of places in the world that you can't see or want to see!!
Peta Came PPAT is a simple monitoring camera that fulfills your desire.
We have been developing Peta Came series (ultra-compact and lightweight cameras that can by used by sticking, placing, or attaching anywhere) and the first of the series is "PetaCame PPAT".
It is small and lightweight, so it is easy to carry and easy to use and you can check the images on your smartphone immediately.
Attach it to glasses, clothes, toys, and anywhere!
Data is saved on your smartphone via Wi-Fi, so you don't need a computer to check the footage.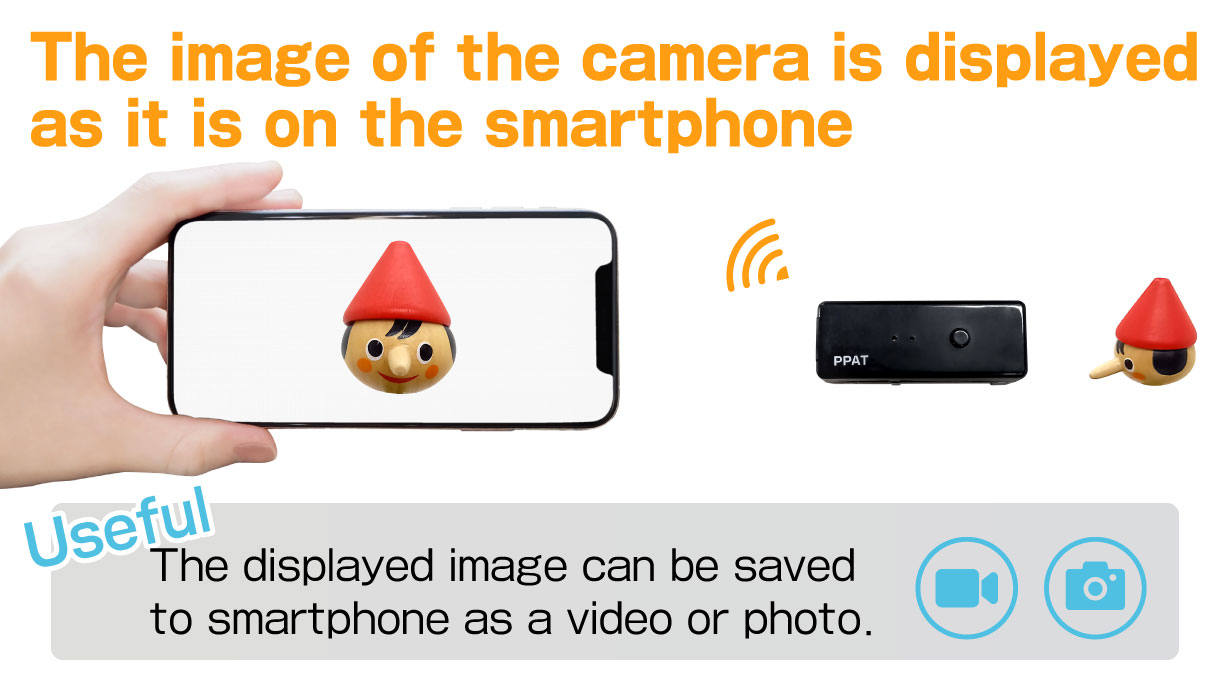 Using the dedicated app, you can view the camera footage on your cellphone. The displayed video can be snapshotted or recorded. You can also flip/rotate the camera image.
* It can be used within the range of the camera's Wi-Fi signal.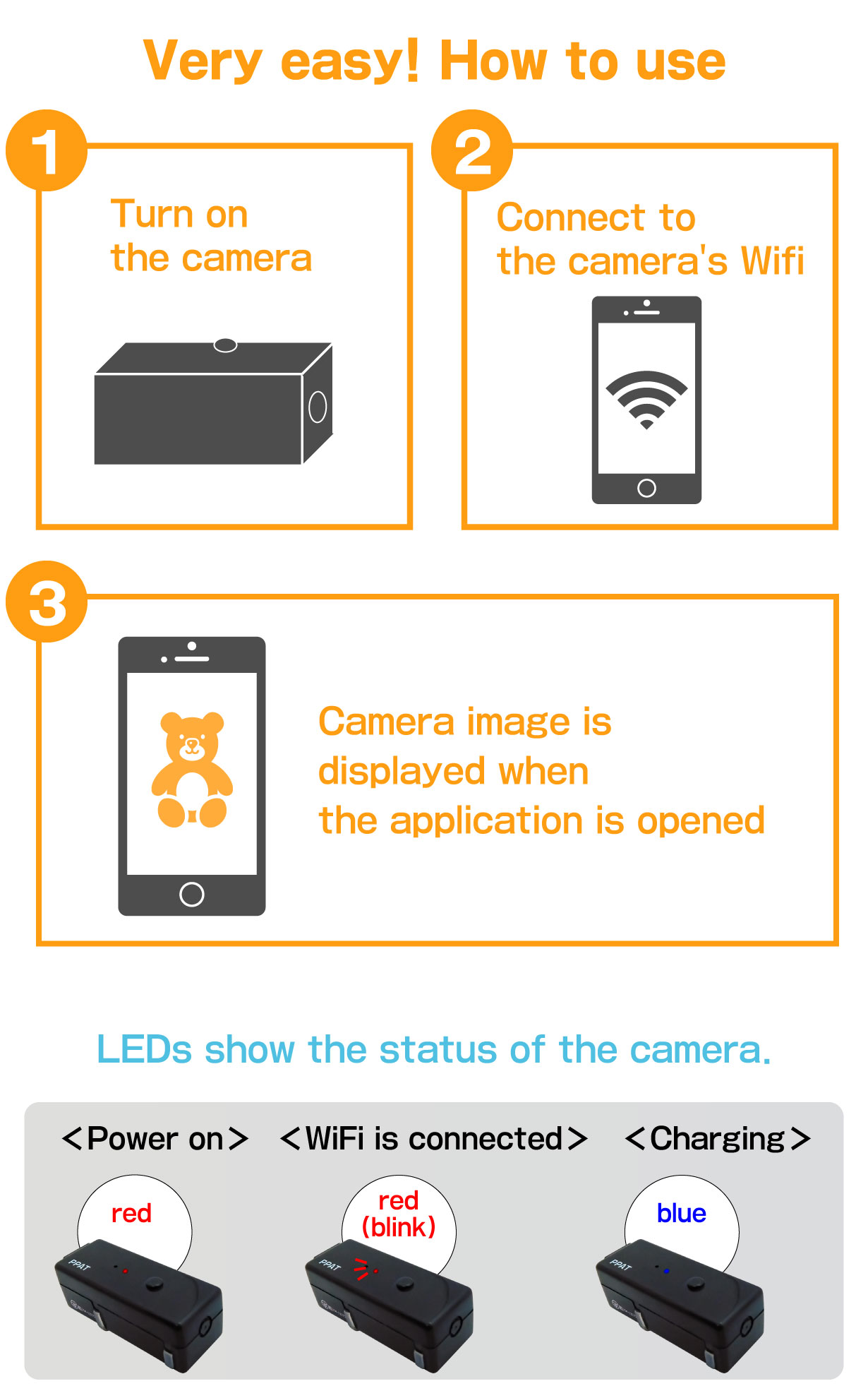 The size of the camera is super small and convenient to carry.
It weighs about 0.5oz and is super lightweight, so it can be easily installed on walls, toys pet collars, glasses, etc.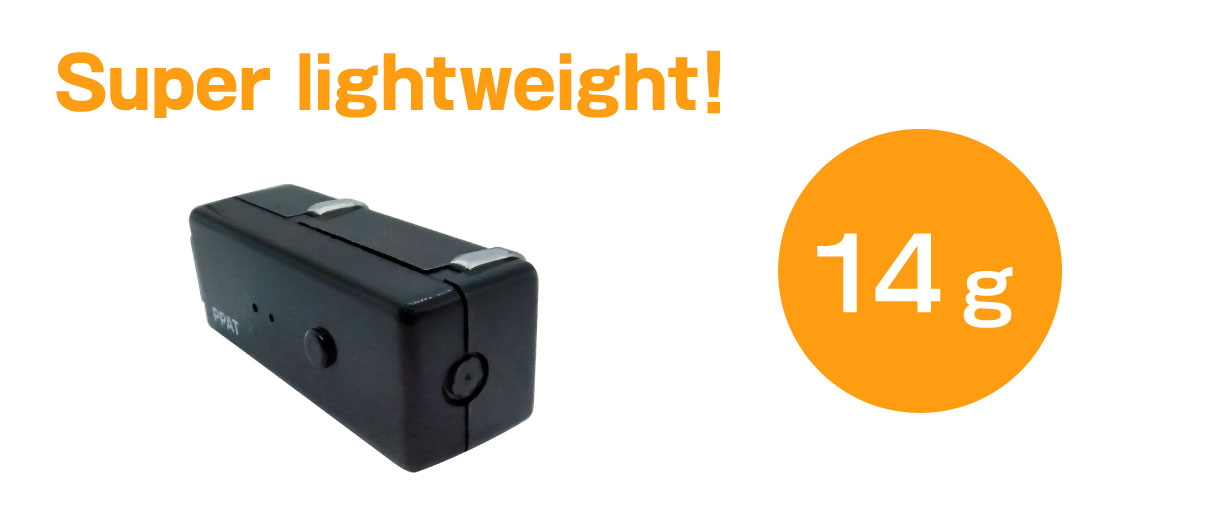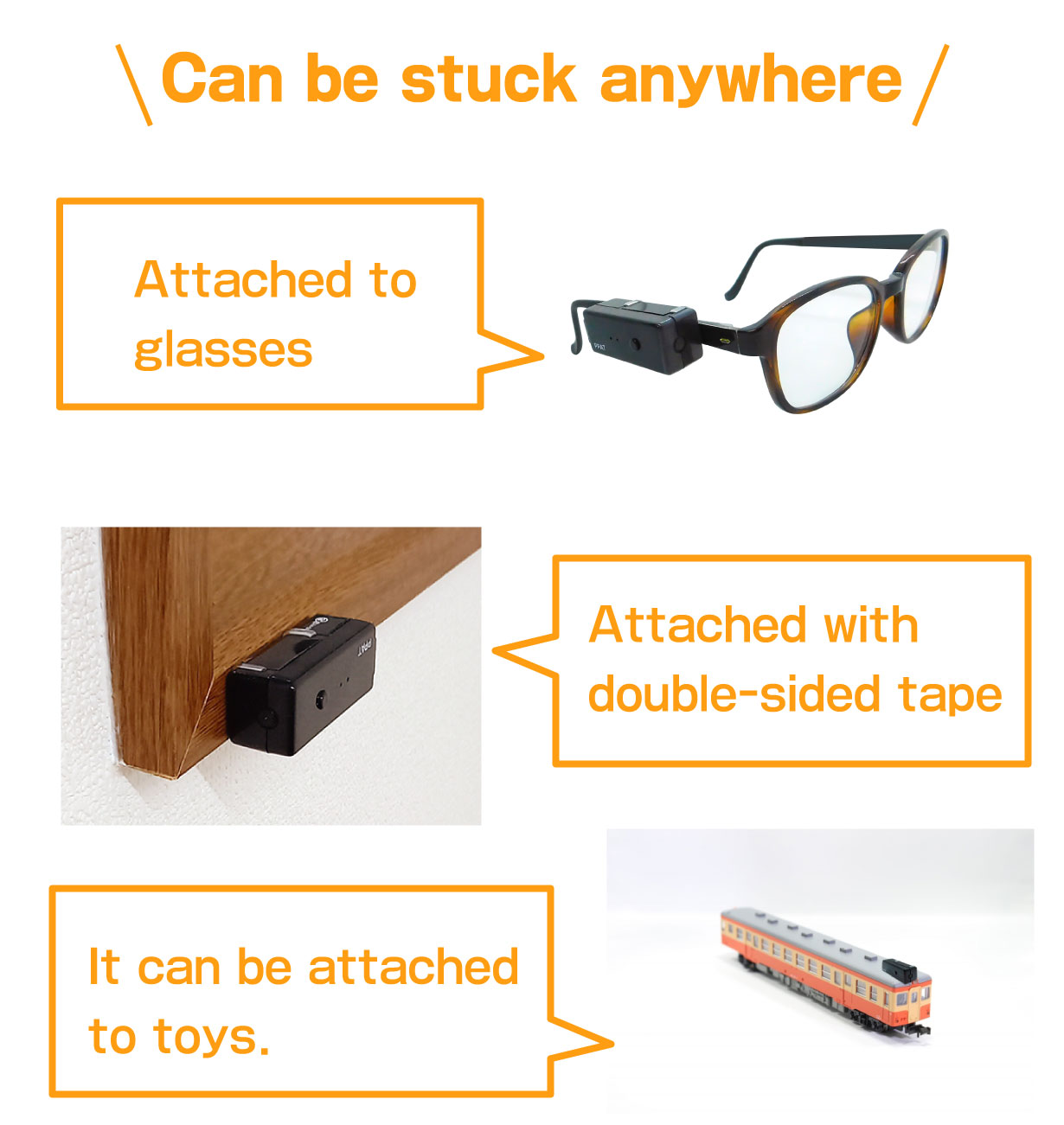 It can be used in a variety of ways not only for fun, but also as a convenient item.
Experience the world that you have never seen before with "Peta Came PPAT"!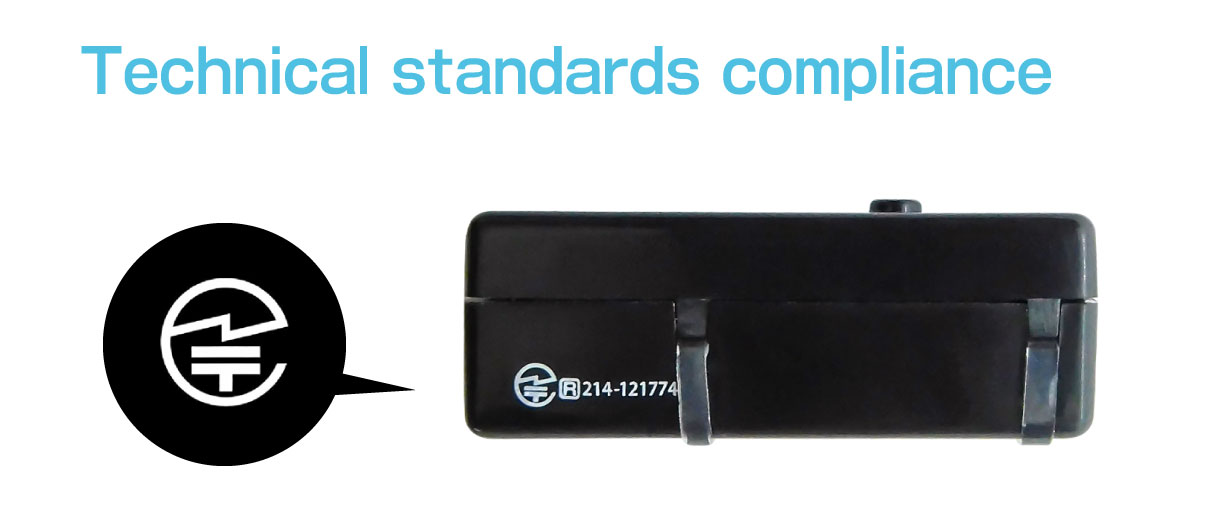 * "Peta Came®" is a registered trademark of Broadwatch Co., Ltd.
Product Specifications
Wi-Fi
IEEE802.11g
Connection mode
Direct
Video monitor function
Smartphone (iPhone/Android)
Shooting mode
Constant monitor
Recording function
Recording with cellphone (video/photo)
Resolution
720P
Angle of view
About 60 degrees
Object shooting distance
10cm~
Minimum shooting illumination
10Lux
Manual operation button
Power button
Reset button hole
LED
Lights in red: Power ON
Blinking red: Wi-Fi connection
Lights in blue: Charging
Continuous operating time
About 50 minutes
Built-in battery
Lithium polymer battery (200mAH/3.7V)
Power supply
DC5V (microUSB terminal)
Installation method
Glasses band / Double-sided tape
Material
ABS
Size
About 16 x 18 x 46mm / about 14g
* Specifications are subject to change without notice.
* As part of our SDGs efforts, this product does not include an instruction manual or warranty card in order to reduce the amount of paper resources used. Please read the QR code on the package with a cellphone etc. and check the electronic instruction manual / warranty card.
*Do not use outside of Japan.
Support
Q & A
Questions from users
With this product, you can directly connect the camera body and cellphone app using the Wi-Fi function and check the image.
It can be used even in places without an internet environment, such as outdoors or in areas without cellphone coverage.
Note
The Wi-Fi function of the camera cannot connect to the Internet.
Attach it with the band that comes with the main unit, or use the included double-sided tape to attach it.
The band that comes with the main unit has a width of 1.8 cm, which is intended to be attached to a thin part such as a spectacle frame, and cannot be attached directly to a harness with a width of 3cm.
It seems that it can be installed if it is a method such as tying it to a harness while passing the string through the band.
Audio cannot be recorded.
To check the camera image, you need to download the cellphone application. Currently, the app is only compatible with iPhone/Android, so it cannot be used on a computer.
Please do not replace the battery by yourself because the product needs to be disassembled.
It is approximately 15m. *Test results in a general office environment.
Note
Due to the nature of Wi-Fi, the distance that radio waves reach varies greatly depending on the environment, such as shielding or reflecting objects. Please note.
Since the Wi-Fi connection between the cellphone app and the camera is one-to-one, it is not possible to connect to multiple cameras at the same time or switch images instantly.
When using multiple cameras, it is necessary to disconnect/reconnect the Wi-Fi connection for each camera to switch.
Support for OS updates is planned. Details will be announced on the official website from time to time.